Orlando Air Duct Cleaning
Have you ever wondered what may be lurking in your home's air ducts? If you haven't, don't worry, most people tend to forget that bacteria, dirt and allergens can quietly build up in your home's HVAC system. That's where Dream Clean can remind you and eliminate these harmful contaminants thanks to our experienced Orlando air duct cleaning professionals.
Your home's HVAC system is like anything else – over time, it gathers dust and needs a thorough deep clean to whip it back into shape. Our air duct cleaning technicians will clean every vent in your home.  We don't just apply a vacuum to your vents and leave in 10 minutes like many companies.  We actually use a rotary brush that scrubs the inside of your dusty vents and removes stuck particles.  
Once we're clear on what we're working with, we can design a custom cleaning treatment that effectively removes contaminants in your air ducts using powerful, commercial-grade vacuums.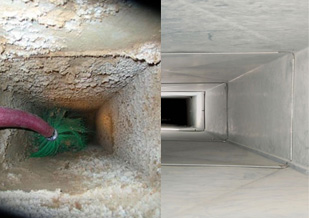 Want To Reduce or Avoid Allergies?
Web MD suggests that you have your air ducts cleaned once per year.  Allergens can lurk throughout a home, including in the air ducts. The job of the air ducts is to exchange the uncomfortable indoor air with heated or conditioned air produced by the heating and cooling system. Each time the heating and cooling system cycles, it withdraws air from the living spaces of the home. Along with that air, it also collects the pet dander, dust and other particles. These particles settle out and land in the air ducts, only to be blown into the air upon the next system cycle. Day and night all year long, the allergens are spread throughout the home.